Choosing The Best Lightsaber For Dueling: Features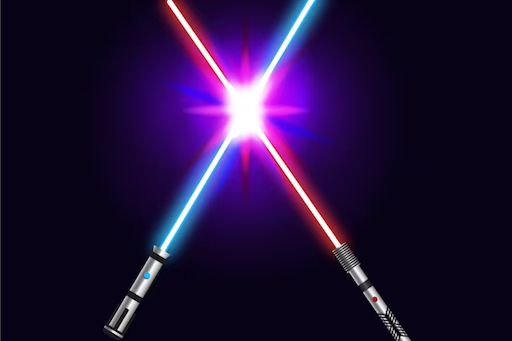 In a galaxy filled with iconic weapons, none captivates the imagination quite like the lightsaber.
Whether you're a Star Wars enthusiast, a seasoned duelist, or someone looking to embark on a thrilling journey into lightsaber combat, choosing the right lightsaber is essential.
In this guide, we'll delve into the key features and considerations to help you select the best lightsaber for dueling, ensuring an epic and immersive experience.
The Rise of Lightsaber Dueling
Lightsaber dueling has transcended its origins in the Star Wars franchise to become a popular sport and hobby.
Enthusiasts across the world engage in lightsaber combat, attending tournaments, joining clubs, and honing their skills. As a result, the demand for high-quality dueling lightsabers has surged.
Key Features for Dueling Lightsabers
When it comes to choosing the best lightsaber for dueling, several key features should be on your radar:
1. Durability: Durability is paramount in a dueling lightsaber. Look for models constructed from robust materials like aircraft-grade aluminum or reinforced polycarbonate. The hilt should withstand impact without sustaining significant damage.
2. Blade Material: The blade should be made from a durable, shatter-resistant material. Duel-worthy lightsabers often feature polycarbonate blades that can withstand rigorous combat without breaking.
3. Weight and Balance: A well-balanced lightsaber feels comfortable in your hand during duels. Consider the hilt's weight distribution and choose a model that suits your combat style.
4. Blade Length: Lightsaber blades come in various lengths. The ideal length depends on your preference and dueling style, whether it's single-handed or two-handed combat.
5. Blade Color: Lightsabers are available with customizable blade colors. Some enthusiasts prefer bright colors for visibility during duels, while others enjoy the authenticity of the classic blue, green, or red.
6. Sound Effects: Authentic sound effects enhance the immersive experience of lightsaber dueling. Look for models that offer realistic sound profiles, including ignition, hum, and clash sounds.
7. Blade Illumination: Dueling lightsabers typically feature bright LED illumination for an authentic appearance. Multiple LED colors and effects can add to the visual appeal.
8. Hilt Design: The hilt design affects not only the aesthetics but also the comfort and grip during dueling. Some hilts are ergonomically designed for better handling.
9. Customization: Customization options allow you to personalize your lightsaber with unique hilt designs, sound fonts, and color choices.
Consider Your Dueling Style
Your lightsaber should align with your dueling style and preferences:
1. Single-Handed or Two-Handed: Determine whether you prefer single-handed or two-handed combat. The hilt length and weight distribution can influence your choice.
2. Stance and Technique: Your choice of lightsaber should complement your chosen combat style, whether it's the classic Form I, Form II, or a personalized technique.
3. Speed vs. Power: Consider whether you prioritize speed and agility or raw power in your dueling. This can affect the weight and balance of your lightsaber.
Safety First
Safety is a top priority when engaging in lightsaber dueling. Here are some safety considerations:
1. Protective Gear: Invest in proper protective gear, including gloves, masks, and padding, to prevent injuries during duels.
2. Dueling Partners: Duel with others who prioritize safety and adhere to agreed-upon rules and guidelines.
3. Dueling Environment: Choose a suitable dueling environment with sufficient space, proper lighting, and a non-slip surface to minimize accidents.
4. Supervision: If you're new to dueling, seek guidance and supervision from experienced duelists or instructors.
Joining the Lightsaber Community
Dueling lightsabers offer more than just thrilling combat; they provide an opportunity to join the vibrant lightsaber community.
Consider these avenues to connect with fellow enthusiasts:
1. Local Clubs and Groups: Many cities have lightsaber dueling clubs and groups where you can learn, practice, and duel with others who share your passion.
2. Tournaments and Events: Participate in lightsaber dueling tournaments and events, where you can test your skills and meet like-minded individuals.
3. Online Communities: Join online forums, social media groups, and websites dedicated to lightsaber dueling to connect with enthusiasts from around the world.
4. Training and Workshops: Attend lightsaber training sessions and workshops to refine your skills and learn new techniques.
The Journey Begins
Buying dueling lightsabers is not just about finding the right tool; it's about embarking on a journey into a rich and immersive world of combat and camaraderie.
With the right lightsaber in hand, you'll be ready to face off against foes, forge alliances, and create memorable dueling experiences.
So, may the Force be with you as you begin your exciting lightsaber dueling adventure, and may your battles be epic and your journey filled with discovery and growth.