The Importance of Steel Toe Caps in Men's Trainers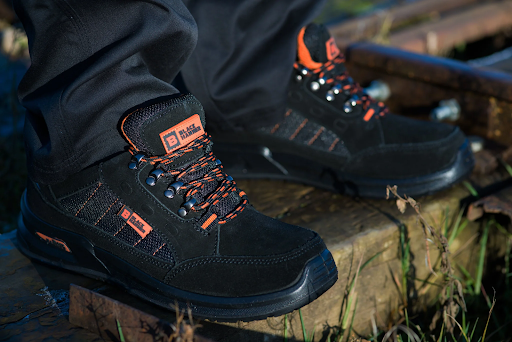 Steel toe cap trainers have become increasingly popular in recent years due to their functionality and style. They offer a level of protection for the feet that regular trainers do not, making them a popular choice for people in a variety of professions. In this article, we will discuss the importance of steel toe cap trainers, and why they are worth considering.
What is Steel Toe Cap Trainers?
Steel toe cap trainers are a type of footwear that is designed to protect the feet from impact and compression. They are made with a protective steel cap in the toe box that helps to absorb the shock of heavy objects or machinery that may fall on the feet. They are also designed with durable materials that can withstand wear and tear, making them ideal for use in industrial or construction settings.
Why Steel Toe Caps are Important in Men's Trainers
Protection
The most important aspect of steel-toe cap trainers is the protection they offer. In industries such as construction, manufacturing, and warehousing, employees are at risk of having heavy objects fall on their feet. In such situations, steel toe caps can absorb the impact and protect the feet from serious injury. Even in less hazardous work environments, steel toe caps offer protection against accidental bumps and knocks that can lead to foot injuries.
Compliance with Safety Regulations
In some industries, it is mandatory for workers to wear steel-toe cap trainers to comply with safety regulations. For example, the Occupational Safety and Health Administration (OSHA) requires employees in certain industries to wear protective footwear that meets specific safety standards. In such cases, steel-toe cap trainers are often the footwear of choice.
Increased Durability
Steel toe cap trainers are designed to be durable and long-lasting. The materials used in their construction are often of a higher quality than those used in regular trainers, which means they can withstand heavy use and last longer. This is particularly important for people who work in physically demanding jobs, as they need footwear that can withstand constant wear and tear.
Comfort and Support
Contrary to popular belief, steel-toe cap trainers for men can be just as comfortable as regular trainers. They are designed with cushioned insoles and breathable materials that help to prevent foot fatigue and sweating. Additionally, they often have features such as arch support and shock absorption that can help to reduce foot pain and discomfort.
Choosing the Right Steel Toe Cap Trainers
When it comes to choosing the right steel toe cap trainers, there are a few factors to consider:
Fit and Comfort
The fit and comfort of steel-toe cap trainers are important factors to consider. They should fit well and feel comfortable, with no rubbing or pinching. Additionally, they should provide adequate support and cushioning to prevent foot fatigue.
Durability
Steel toe cap trainers should be made with durable materials that can withstand heavy use. Look for trainers made with high-quality leather or synthetic materials that are reinforced with double or triple stitching.
Safety Standards
If you work in an industry that requires steel-toe cap trainers, make sure that the trainers you choose meet the relevant safety standards. Look for footwear that complies with OSHA or other regulatory bodies in your industry.
Style
Finally, consider the style of the trainers. While functionality is the most important factor, you should also choose trainers that you like the look of. There are many different styles of steel-toe cap trainers available, from sporty to casual, so you should be able to find a pair that suits your personal style.
Conclusion
Steel toe cap trainers are an essential piece of protective footwear for men who work in industries that pose a risk of foot injuries. They offer increased protection, compliance with safety regulations, increased durability, and comfort and support. When choosing steel-toe cap trainers for men, consider the fit and comfort, durability, safety standards, and style to ensure that you find a pair that meets your needs and preferences.