Interceptors: A Superior Approach To Bed Bug Control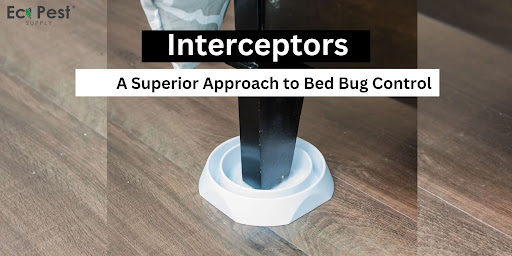 When it comes to dealing with a bed bug infestation, you have several options at your disposal. From pesticides and heat treatments to professional extermination services, the market offers a variety of bed bug control methods.
While many of these methods can be effective to some extent, bed bug interceptors stand out as a superior approach for several reasons.
Non-Toxic and Environmentally Friendly:
Bed bug interceptors are non-toxic and environmentally friendly. They work by simply capturing bed bugs as they try to climb up or down from furniture or bedding. In contrast, many other bed bug control methods, such as chemical pesticides, often involve using harmful chemicals that can pose risks to humans and pets. Interceptors eliminate the need for toxic substances, making them a safer choice.
Cost-Effective:
One of the most compelling advantages of bed bug interceptors is their cost-effectiveness. Compared to professional extermination services, which can be quite expensive, interceptors are an affordable option. They are a one-time purchase, and they can be used repeatedly, offering long-term protection without incurring ongoing costs.
Ease of Use:
Bed bug interceptors are incredibly easy to use. They come in a variety of designs but typically consist of a simple plastic or metal cup with a textured interior. Placing them under the legs of your bed or furniture is all it takes. There's no need for special training, and you can set them up without professional assistance. This simplicity makes interceptors accessible for everyone.
Early Detection:
Interceptors are not just for controlling existing infestations; they also excel at early detection. By capturing any bed bugs attempting to access your bed or furniture, they serve as an early warning system. This early detection can be crucial in preventing a minor issue from turning into a major infestation.
Prevents Bed Bug Bites:
One of the primary concerns with bed bugs is their painful and itchy bites. Bed bug interceptors can help prevent these bites by stopping the bugs in their tracks. As bed bugs attempt to reach you while you're sleeping, they become trapped in the interceptor, sparing you from bites and potential allergic reactions.
Discreet and Low Maintenance:
Bed bug interceptors are discreet and require minimal maintenance. Once installed, they are usually not visible, blending seamlessly with your furniture. Cleaning them is as simple as emptying the captured bugs into a plastic bag and repositioning the interceptor. This minimal upkeep makes them a hassle-free solution.
Ideal for Allergen-Sensitive Individuals:
For individuals with allergies or respiratory issues, chemical pesticides can be problematic. Bed bug interceptors offer a solution that doesn't introduce any allergens into the environment. Their passive nature makes them an excellent choice for those with sensitivities.
Long-Term Solution:
While some bed bug control methods may offer quick fixes, bed bug interceptors provide a long-term solution. They not only help in dealing with the existing infestation but also work to prevent future infestations. Their durability and reusability make them an investment in the ongoing protection of your home.
Minimal Disruption to Daily Life:
Unlike many other bed bug control methods, bed bug interceptors do not require you to vacate your home for an extended period or dispose of infested furniture. Other treatments often involve significant disruptions to your daily life, while interceptors can be seamlessly integrated into your routine. This means you can continue using your bed and furniture with minimal interference, making them a practical choice for households.
Versatility in Application:
Bed bug interceptors are versatile and can be used in various settings beyond just your home. They are ideal for hotels, dormitories, and other shared accommodations where bed bug infestations are common. By incorporating interceptors, these establishments can proactively monitor and prevent bed bug issues, improving the overall guest experience and reputation.
To Sum Up
Bed bug interceptors offer a comprehensive solution to bed bug control. They are not only an effective choice for your home but also for a wide range of settings. With their minimal disruption to daily life and versatile application, they outshine other bed bug control products in terms of convenience and effectiveness.
If you're dealing with bed bugs or want to safeguard your living space, bed bug interceptors are the smart, positive choice.