How to Wear a Corset Dress for Any Occasion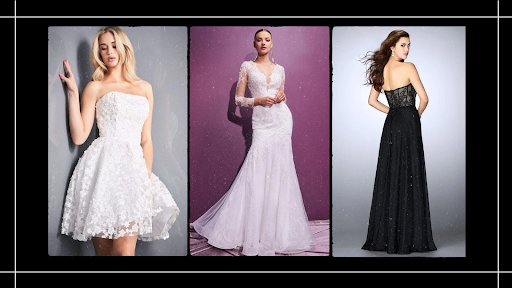 Corset dresses are like fashion chameleons – they can adapt to any event or setting, whether a fancy soirée, a casual brunch, or a night out with friends.
However, the challenge lies in finding the right balance between elegance and comfort while wearing a corset dress. How can you make it work for a formal gathering without feeling constricted or sacrificing your style?
But fear not, as we've curated a guide to help you effortlessly slay in any corset dresses and gowns. We'll share tips and tricks on how to style it for various occasions, such as prom, weddings, or any event, ensuring you're comfortable and exuding confidence wherever you go.
From selecting the right accessories and footwear to incorporating trendy layering techniques, we have all the insider knowledge to transform your corset dress into a versatile fashion statement. Now, say goodbye to outfit dilemmas and hello to fashion-forward choices that perfectly reflect your personality.
Get ready to turn heads, make a statement, and feel like the fabulous fashion diva that you are!
So, buckle up and get ready to explore the endless possibilities of a corset dress:
Accessorize to Mesmerize
Accessories play a crucial role in elevating the charm of your corset dress. Choose accessories that complement your corset dress to create a versatile look while adding a touch of personal style. Let's explore some options:
Belts: Cinch your waist with a statement belt to enhance your hourglass figure while adding a trendy twist. Opt for a wide or corset-style belt to accentuate the waistline and create an alluring silhouette.
Jewelry: Add some bling to your ensemble with the right jewelry pieces. Chunky necklaces, chandelier earrings, or stacked bracelets can effortlessly enhance the glamour of your corset dress. Mix and match metals, textures, and colors to create a unique look.
Hats and Headpieces: Experiment with hats and headpieces for a fashion-forward statement. A wide-brimmed hat exudes elegance, while a floral crown adds a bohemian touch. Find the right headwear that complements the occasion and your personal style.
Layering Techniques for All Seasons
Don't let the seasons limit your corset dress game! Layering can transform any corset prom dresses into a versatile piece suitable for any weather. Here are some layering ideas:
Jackets and Blazers: Pair your corset dress with a tailored blazer or a chic leather jacket for a sophisticated and edgy look. This combination works wonders for both formal events and casual outings.
Cozy Sweaters: When the temperatures drop, layer a cozy sweater over your corset dress. Opt for a chunky knit or a cropped cardigan, depending on the dress's style. This adds warmth and a touch of coziness to your ensemble.
Sheer or Lace Tops: Layer a sheer or lace top underneath your corset dress for a romantic and whimsical vibe. This creates a stunning illusion and adds depth to your outfit. Experiment with different colors and textures to find the perfect pairing.
Footwear that Speaks Volumes
Your choice of footwear can either enhance or diminish the impact of your corset top prom dress or any corset top dress ensemble. Below, we present a variety of footwear options for you to explore:
Strappy Heels: Elevate your look with a pair of strappy heels. Whether they're stilettos, block heels, or wedges, they add elegance and elongate your legs. Choose neutral colors for versatility, or go bold with vibrant shades for a pop of personality.
Chunky Boots: Embrace an edgier style by pairing your corset dress with chunky boots. This combination effortlessly balances femininity and attitude. It's perfect for a casual day out or a music festival-inspired look.
Pointed Flats or Sandals: Achieve comfort without compromising style with pointed flats or sandals. They add a chic touch to your outfit, allowing you to move easily. Opt for metallic finishes, animal prints, or embellishments to make a fashion statement.
Experiment with Textures and Fabrics
Don't limit yourself to one type of corset dress fabric. Experimenting with different textures and fabrics can add depth and visual interest to your outfit. Consider these options:
Lace: Choose a corset dress with lace detailing or an overlay for a romantic and feminine look. Lace adds a touch of elegance and sophistication, making it perfect for special occasions.
Velvet: Opt for a velvet corset dress to exude luxury and opulence. The plush texture of velvet elevates your ensemble, making it suitable for evening events and formal gatherings.
Satin or Silk: Wear a corset dress in satin or silk for a sleek and polished look. These fabrics have a lustrous sheen that enhances the dress's elegance and gives it a red-carpet-worthy vibe.
Play with Colors and Prints
The versatility of your corset dress, whether it's a white or black corset prom dress, is greatly influenced by its color and print. Here are some ideas to inspire you:
Neutral Tones: Opt for corset dresses in neutral tones such as black, white, beige, or gray. These colors provide a versatile base that allows you to accessorize and style your dress in various ways.
Vibrant Hues: Don't be afraid to go bold with bright and vibrant colors. A corset dress in a striking shade like red, royal blue, or emerald green can make a powerful fashion statement and turn heads wherever you go.
Floral Prints: Embrace the beauty of nature with a floral-printed corset dress. Whether it's delicate blossoms or bold botanicals, floral prints add a touch of femininity and whimsy to your outfit. Pair it with the right accessories to create a look suitable for different occasions.
Embrace the Power of Versatility
Lastly, the key to transforming your corset dress into a versatile fashion statement is your confidence and willingness to experiment. Feel free to mix, match, break fashion rules, and showcase your unique personality.
Remember, fashion is a form of self-expression, and your corset dress is a canvas waiting to be adorned. So embrace different styles, explore new combinations, and let your inner fashionista shine.
Conclusion
Now that you're armed with insider knowledge go ahead and unleash the magic of any corset gowns for any occasion. Stand tall, exude confidence, and become a trendsetter wherever you go!
Stay tuned for more fashion inspiration and styling tips. Until then, keep slaying, fashionistas!