Effective Tips And Tricks To Treat Body Acne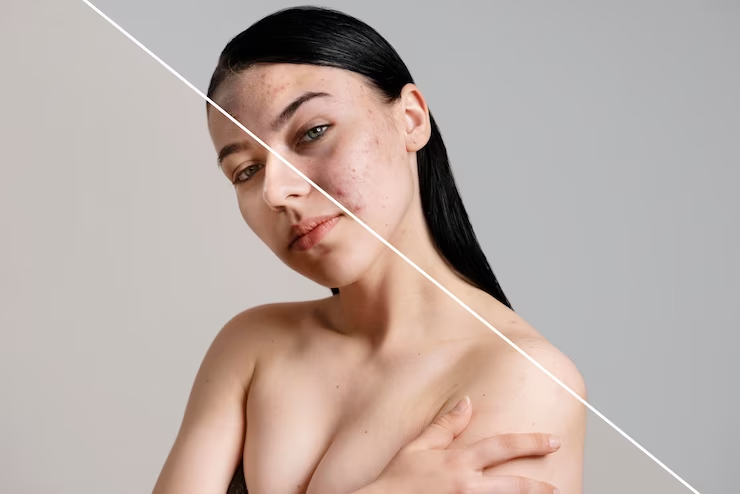 While facial skincare is often at the forefront of our beauty routines, it's important not to neglect the rest of our bodies when it comes to achieving clear, healthy skin. Research shows that up to 50% of people with facial acne also have body acne on their chest, back or shoulders. Body acne, or bacne, can be a frustrating and stubborn condition that affects people of all ages and skin types. New Jersey's humid climate can make things even more challenging for people living there. That is why taking care of your body is referred to as equally important to face, as per dermatology in New Jersey. Since bacne is a common issue, we are here to provide you with some effective tips and tricks to treat your body's acne.
Here we go,
Wear Breathable Clothing
One of the most important steps in preventing body acne is wearing breathable clothing. Tight-fitting clothes made of non-breathable fabrics like nylon or spandex can trap sweat and bacteria against the skin, leading to breakouts. It's best to wear loose-fitting clothes that are made of cotton or linen, especially during the months when the weather is extremely hot and humid.
Use Gentle Cleansers
Using harsh or abrasive cleansers can strip the skin of its natural oils and exacerbate acne. Instead, opt for gentle cleansers that are formulated specifically for body acne. When you have body acne, your skin is already inflamed, and harsh cleansers can strip away the skin's natural oils and disrupt its delicate balance, leaving it more vulnerable to further breakouts. Gentle cleansers, on the other hand, are formulated to cleanse the skin without causing irritation or stripping away essential oils. Try to use products that contain salicylic acid or benzoyl peroxide, that will unclog pores and reduce inflammation.
Moisturize Regularly
Many people with acne avoid moisturizing their skin because they believe it will make their acne worse. However, skipping moisturizer can actually exacerbate acne by causing the skin to produce more oil to compensate for the lack of moisture. Make sure to choose a non-comedogenic moisturizer that won't clog pores and use it regularly.
Shower After Sweating
Sweating helps regulate our body temperature, but it can also contribute to acne. When sweat mixes with bacteria and dead skin cells, it can clog pores and lead to breakouts. To prevent this, it's important to shower or bathe as soon as possible after sweating. This will help remove excess sweat and bacteria from the skin and prevent clogged pores.
Ask For Some Professional Help 
If your body's acne is severe or persistent, it is highly recommended to seek professional help. There are various dermatologists who offer online consultations allowing you to get the perfect treatment without leaving your house. This can be especially helpful for those with busy schedules or those who live far from a dermatologist's office.
All in All
Body acne can be a frustrating and challenging skin problem, but there are many ways to manage it effectively. By following these tips for treating body acne in New Jersey's humid climate and consulting with a dermatologist like Dr. Alexander Shraga, you can achieve clearer, healthier skin.