Different Types of Fire Safety Signs and Their Meanings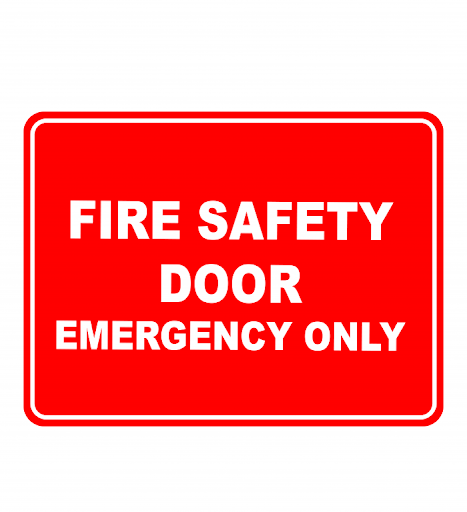 Unfortunately, fire hazards can take place anywhere without prior notice. And many people tend to ignore fire safety until something goes wrong. Not only can this lead to a dangerous fire hazard but also significantly damage your property and impact your life. 
So, you can't afford to overlook its importance. Whether in an office, warehouse, retail store, hospital, apartment or condominium, fire safety should be at the top of your priority list. While your building may have security cameras, fire extinguishers, fire alarms in place, fire safety signs are a crucial part of fire fighting equipment.
The fire safety signage helps people locate the emergency exits, determine the places prone to fire hazards, find the fire fighting equipment like a fire extinguisher, etc. So, it is crucial to choose the right safety fire signs to ensure the safety of the people on your premises.
However, how will you decide which safety sign is the most important? Do you know the meaning of various safety signs in Australia? If not, you're at the right place. In this guide, we will share a list of must-have fire safety signs in a building.
What Fire Safety Signs Do You Need For Your Building?
Fire Extinguisher Sign: Fire extinguishers are the first line of defence in case of a fire hazard. So, Health and safety legislation states that every building owner must place the right fire safety signage near the fire safety equipment, requiring manual operation. This sign helps people locate the fire safety equipment and understand how to operate the device.
Fire Alarm Sign: Fire safety alarms are a great way to reduce damage during a fire hazard. Hence, the individuals residing in a building must know where the fire alarm is located to inform firefighters and escape as soon as possible. It is great if fire alarm signs are placed near the emergency exit sign. 
Emergency Fire Exit Sign: Emergency exit signs help people evacuate the building in the shortest possible time. These signs usually incorporate a lighting system that doesn't require power from the grid and illuminate even in the case of a fire hazard, making it easier for people to find the route.
Fire Door Sign: Fire door signs must be marked with prohibited signs, indicating the door must remain closed all the time. Fire doors are designed to restrict the movement of smoke and fire throughout the building. Hence, such doors must remain closed during an incidence of fire.
The Bottom Line
Fire safety signs are the hidden heroes of the fire protection world. A building with proper safety fire signs is more secure than a building with no sign at all. So, don't risk your and your loved one's life. 
If your building doesn't have the right fire safety signs installed, it is recommended to do it right now. And if you are seeking an online store to buy the top-notch quality safety signs in Australia, you can choose The Aussie Safety & Civil Supply Co.