A Guide to Band Tops – Women's Edition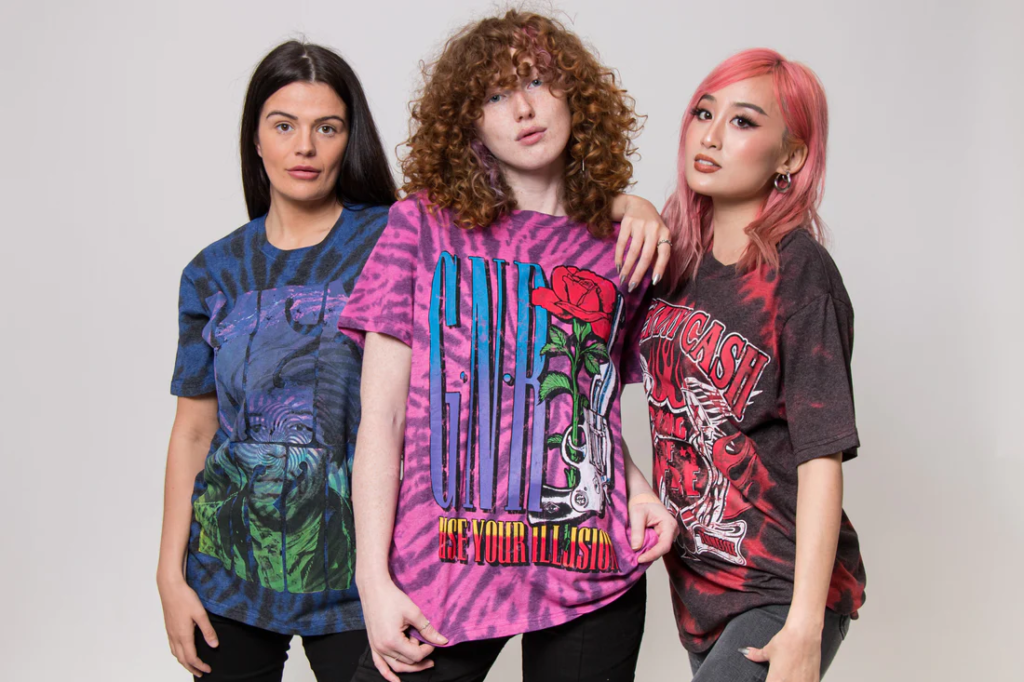 Do you know that Elvis Presley's fan clubs produced some of the earliest band tops to celebrate the musician during the late 1950s? After that, they became a symbolic style choice for rebellious teenagers, even men, and women.
But the golden era of the rock-n-roll tops, especially women's band tops, began in the 1970s, as they evolved from free swag made for a band and its crew to a collectible piece of merchandise every fan needed. During the following decades, tops and t-shirts were seen and sold at every major show and tour, featuring images that let fans easily identify themselves as followers of an artist's band and their music.
Now scrolling down, we will talk about various fanbases of the band and how there are different genres of these bands.
Band's Emerging Fanbase
Band groups like the Grateful Dead and Pink Floyd had tops that showcased psychedelia; punk acts like the Ramones, the Clash, and Sex Pistols went for a chaotic, DIY look; T-shirts for Ozzie Osborne, Mötley Crüe, and the Misfits have featured darker graphics. By the 1980s, fans of popular bands like the Rolling Stones, AC/DC, Joan Jett & the Blackhearts, and Van Halen all wanted their favorite artist's faces emblazoned across their chests, as did those who liked music as diverse as Kiss, Metallica, and David Bowie. 
Today tops for artists like Iron Maiden, the Police, and Nirvana continue to draw attention because of their powerful graphics and huge fan base. But for a true music geek, the holy grail is a concert top from a show you've seen in person: although many retailers make these tops, the one that becomes the showstopper is the one that screams, "I was here."
Here are a few tips to get the best women's band top:
The top can either be in black or white.  
There must be a prominent skull or powerful graphic of your favorite brand. 
It's not necessary to buy only graphic prints, you can also look for lyrics mentioning tee or even the band logos, and that will work too, but it should not be too flashy.
The colors mostly used in the printing are red, so check the print quality first because you want to avoid washing off all the paint on the first day itself. 
You might go wrong, even if you follow these rules because you've got to get the bands and their genres correct.
And for those who have read this far, you're probably thinking, how hard can it be to choose a metal band T-Shirt? But you should know that not all bands sound the same. This is where you will know about metal genres.
Hair Metal
These T-shirts can only be worn ironically in a much run-down genre of cheesy 80s metal, filled with echoing drums, heavily crisped singers, and the worst guitar solos. Bands – Motley Crue, Def Leppard, Bon Jovi, Poison, Whitesnake, Guns N Roses. T-shirt look – Hairspray, colorful logos, at least one band member was always seen wearing a bandana.
Thrash Metal
The kings of speed and also the coolest looking T-Shirts, thrash metal started in the early 80s, with fast drums, technical guitar solos that could go on for days, and a lot of screaming. If you choose one of these band T-Shirts, you're saying you know your stuff about metal, so wear these bands with respect. Bands – Slayer, Metallica (early – check out Master of Puppets), Anthrax. T-Shirt look – Skulls, skulls, skulls.
English Heavy Metal
It is the organic and acceptable look in band T-shirts and the one most likely to have also been owned by your dad in the 80s. These T-shirts are colorful and showcase all the hallmarks of metal T-Shirts. This is some of the best metal there is. Bands – Iron Maiden, AC/DC, Judas Preist, Motorhead, Led Zeppelin
End Note
So now you know what to look for, but remember, if you're going to do this correctly, a metal band women's rock top is worn with skinny faded blue or black jeans, denim or leather jacket, and boots or converse.  These band tops represent an individual's memories and experiences and should be worn in any way.